Both free-part lace closures and three-part closures can be used to make lovely sew-in installs. They both have the same goal in mind: to complete an installation. They both do away with the need to blend.
If you want a free part, bear in mind that you will have to put in a little more effort to "maintain the part." It's almost impossible to forget the exact direction you part your hair with pre-parted closures, but conditioning your hair to part in a particular spot can be more challenging with a free part closure due to the fact that you have the freedom to adjust your part.
Both the free part and three-part lace closures are common on the market and can be very valuable in the creation of beauty. The closure can be purchased in conjunction with the hair packages to ensure that everything fits.
They're both made of lace, either Swiss or French. They do, however, vary in a number of ways, some of which we will explore in this article.
What is a Closure?
A closure is a part of the hair (roughly 4-5 inches big/long) ventilated in lace, Swiss lace, or silk to mimic the scalp and give your hair complete protection! Sewn, taped, or glued down are all options.
A closure is the best choice for maintaining the well-being of your hair when wearing weaves if your hair is broken, normal, colored, and so on.
Lace closures are the most common because they are the most convenient and typically work better for the head. Human hair strands are knotted on the hole of the lace by hand, which is quite elastic and wider than other bases, to create lace closures.
They're the same price as one bundle of hair! (Ranging from 50-100 dollars)
No more blending, hair falling, painting, radiation damage or tracks to contend with!
What is a free part closure?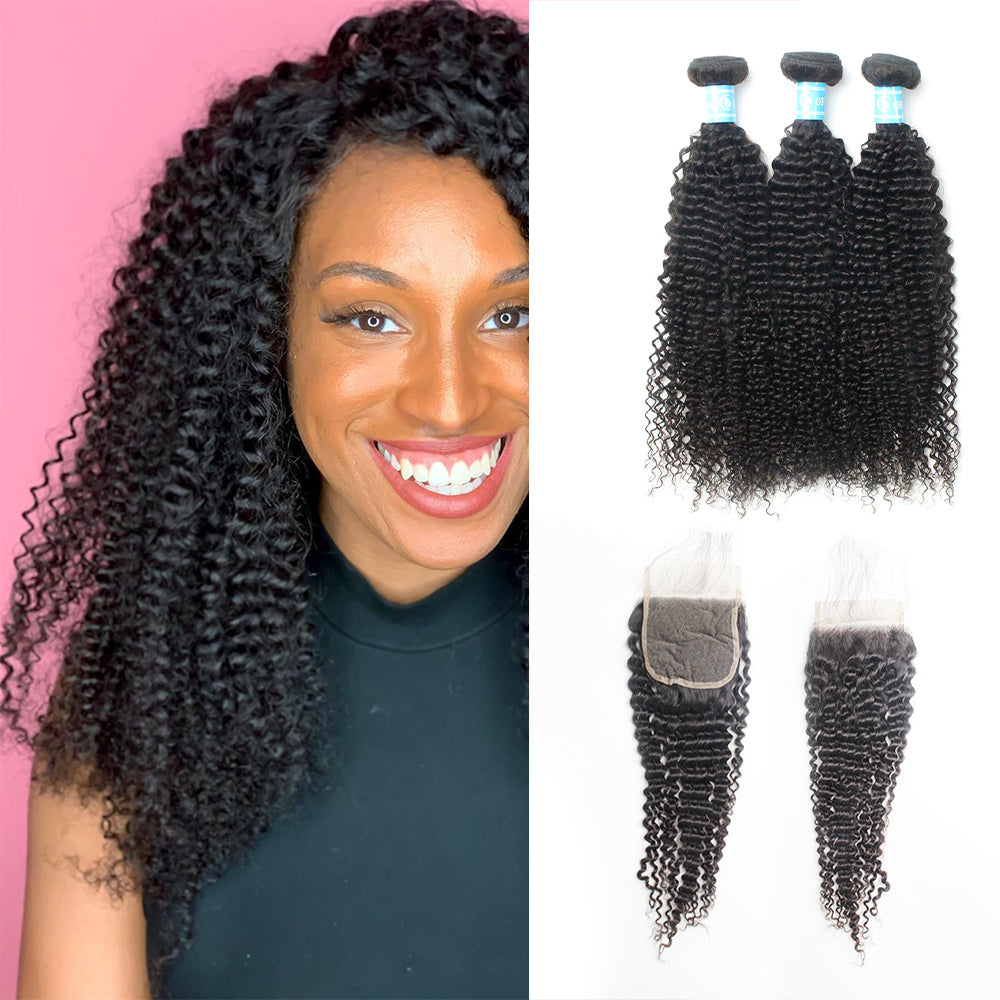 This free part closure can be parted in any direction. You may part it in a zigzag pattern, a curvy pattern, or any other way you might part your normal hair. If you'd like to keep your hair backward with no part, the free part closure is also the best option. The hair would appear to be growing from your scalp.
Since it allows the Brazilian hair 100 percent virgin hair, synthetic hair of the hairpiece, or weaves to part freely, a free part is the most natural-looking form of lace closure. Unlike pre-prepared closures, free component closures do not look bad even if there is a minor installation mistake.
What is a three-part closure?
If the closure is full lace, a very little liquid and re-parting with a comb can still be used to position the part where you want it.
These simply include a pre-plucked, pre-made component to help with installation.
Here are the dissimilarities between free closure and three-part closure
The difference between a free closure and a three-part closure is that even though both provide flexible partings and are simple to style once implemented; however, bleaching the knots is required for either style of closure especially three lace closure.
For others, the free part could be preferable because it provides more flexibility. In fact, the three-part is unremarkable. It wasn't really special from a free part after you co-washed it.
Many women prefer free closures because they enjoy the flexibility of choosing where to part their hair. They despise the "tough aspect" of other forms of closures. They bleach their knots all the time because it looks better.
All whilst, based on the installation process, a three-part closure will make it easier to turn the part from one side to another, making it simpler for the client to keep track of their part.
The only disadvantage of a free-part closure, in my view, is that the individual must work extra hard to maintain the part once they quit the stylist. Otherwise, it is more comfortable for the stylist so they can part it effortlessly, which is typically the less expensive choice and looks more normal.
This unique three-part lace closure has many advantages. You can have three separate partings in such a short amount of time! The three-part lace closure allows you to create more flexible hairstyles than any other closure.
Unlike free part closure, a 3 part lace closure has a dimension of 4x4 inches, allowing you to choose between three natural partings that can be sewn or glued.
The texture and installation of the closures are similar. They're all made of 100 percent human hair and have baby hair lace.
They're all equally nice and easy to style, but bleaching the knots is needed for either style of closure. Installing a three-part closure is faster, as you can switch between various side sections.
When installing a three-part lace closure, the 100 percent virgin human hair bundles must be assembled perfectly because if the closure is even partially off, the entire wig would appear unnatural. While a three-part closure may give you a unique and memorable appearance, you can always see a glimpse of the other sections you're trying to conceal.
A three-part closure is effective for a particular look, while a free-part closure allows for several hairstyles in a short amount of time. It is entirely dependent on your requirements. The majority of customers choose the free part closure option.
In Conclusion
A Three-Part Lace Closure is a must-have if you want to do something great with your hair!
It allows you to be more creative with your hair, picking the looks, style, and designs that you want without compromising on quality. It's available in two styles: body wave and straight.
You may try the free-part and three-part closures, which both provide flexible partings and are simple to style once used, but both require bleaching the knots.
As opposed to free part closure, three-part lace closure can't be styled in many ways. You must always choose a hairstyle that is appropriate for all three sections of the head.